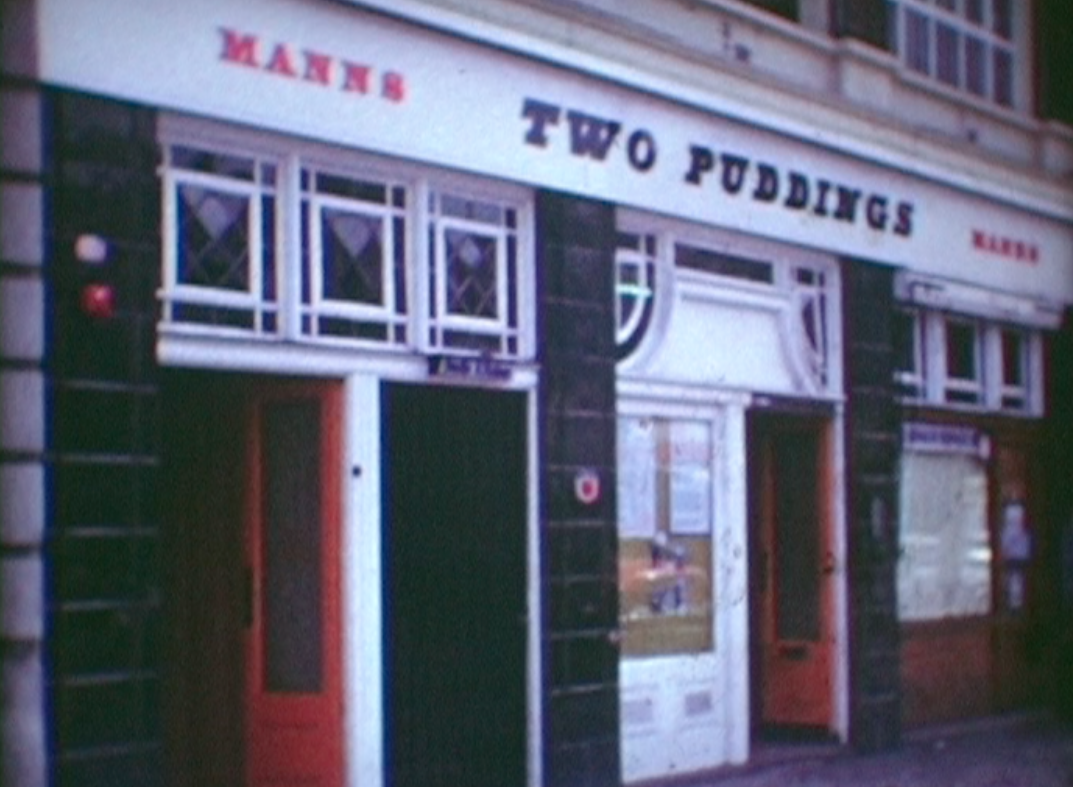 At the heart of Stratford Broadway, the Two Puddings was an iconic pub which over many decades attracted a wide range of customers from Stratford, West Ham, Canning Town, the East End and beyond. It was known for rowdy camaraderie, its loud live music, its dancefloor upstairs, and the wide mix of its clientele.
In the 1940s and 50s, it had a reputation for violence, and was known as "The Butcher's Shop". Eddie Johnson took over as landlord and manager of the pub in 1963, and remained landlord until the Two Puddings' closure in 2000.
During his time managing the pub in the 1960s, the Two Puddings gained a reputation for its live music.  Many bands passed through its doors, including The Small Faces, Screaming Lord Sutch and David Essex (in his first public performance). Upstairs, the Devil's Kitchen was one of the first discos in the country. Eddie's son, Matt Johnson, was brought up above the pub and became a highly successful musician himself (as TheThe) in the 1980s.
Many footballers drank there, including Bobby Charlton, allegedly on the night of England's World Cup victory; and Harry Redknapp, who met his wife on the dancefloor. Famous East End boxers like Terry Spinks and Sammy McCarthy used to frequent the pub, as did artists, journalists, photographers and TV presenters. Other less savoury characters drank there, including on occasion the Krays. Barrie Keeffe, who wrote The Long Good Friday, says that many of the characters in that film had their roots in his time drinking at The Two Puddings.